Espectofotometros, INSTRUMENTACION
Espectofotometro Micro Volume ADN/ARN
About Micro Volume Spectrophotomer, Maestrogen has a whole new design with
MaestroNano Pro which is a specialized instrument for bio-chemical research ,
especially for micro volume solution concentration measurement for DNA , RNA ,
Protein samples.
It realizes a user-friendly interface, a accurate measurement, a competitive
price and a stylish industrial design.
SKU: MN913A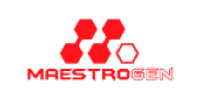 Availability:
1 disponibles
5.500,00€
1 disponibles
Espectofotometro Micro Volume
Espectofotometro Micro Volume MaestroNano Pro is a whole new technology of optical system design of micro volume spectrophotometer.
There is NO optical fiber needed, moreover, with the vertical slide design that the sample measuring area is also more durable and stable.
MaestroNano Pro has a reliable measurement range of concentration from 2 to 2000 (ng/μL) and has a great resistance for the interference
of ambient light to get more accurate measurement.
Specification
Measurement Sample Size
2 ul
Measurement Data Output
(A)OD230nm, OD260nm, OD280nm, OD320nm
(B)Sample concentration (ng/ul)
(C)OD260nm/OD230nm, OD260nm/OD280nm
Minimum Concentration
2 ng/ul (dsDNA)
Maximum Concentration
2,000 ng/ul (dsDNA)
Light Propagation Material
Quartz glass
Absorbance Range (10mm)
0.04 ~ 40
Pathlength
~0.5 mm
Measurement Time
< 5 sec
Operation System
Android OS (ver. 4.4.3)
LCD Resolution
7 inches, 1024(W)X 600(H) dots matrix
Light Source
Xenon flash lamp
Internal Storage
32GB
Data Output Interface
Thermal printer
Data Connection interface
1. Wi-Fi X 1 (USB dongle)
2. OTG USB X 1 (connected to PC to access)
3. Ethernet X 1 (RJ-45)
4. USB X 2
Maintenance
Auto diagnosis, Calibration Program,
Fix pathlength
Operating Voltage
12 V
Dimensions
26(W) X 26(D) X 20(H) cm
Weight
4.2 Kg