Availability:
67 disponibles
450,00€
67 disponibles
Spin column type of product for separation/purification up to 20ug of high purity Plasmid DNA
• Up to 20ug high yield and high purity of plasmid DNA can be obtained by separation and purification with high reproducibility.
• Separation and purification for up to 30 kb of plasmid DNA
• Containing Lysis & Neutralization indicator (Lysis Viewer)
DNA-Spin™ Plasmid DNA Purification Kit is able to perform separation and purification for high concentrated, purity plasmid DNA from bacteria using silica membrane and optimized alkali lysis buffering system. Neutralization buffering system used for pH neutralization and binding perform not only separation/purification for plasmid DNA over 30Kb, but also remove chromosomal DNA, cell debris effectively after lysis. Also, pH change through alkaline lysis method can be observed visually in real time because the product contains lysis & neutralization indicator such as Lysis Viewer (Figure 1). Product is used for either High-copy plasmid DNA or low-copy plasmid DNA and in order to perform separation and purification effectively from endA+ strain(HB101, the JM strains, NM series strains, PR series strains, etc.), Washing Buffer A is provided separately.
Figure1. Changes observed by Lysis Viewer

  Applications

  Kit Contents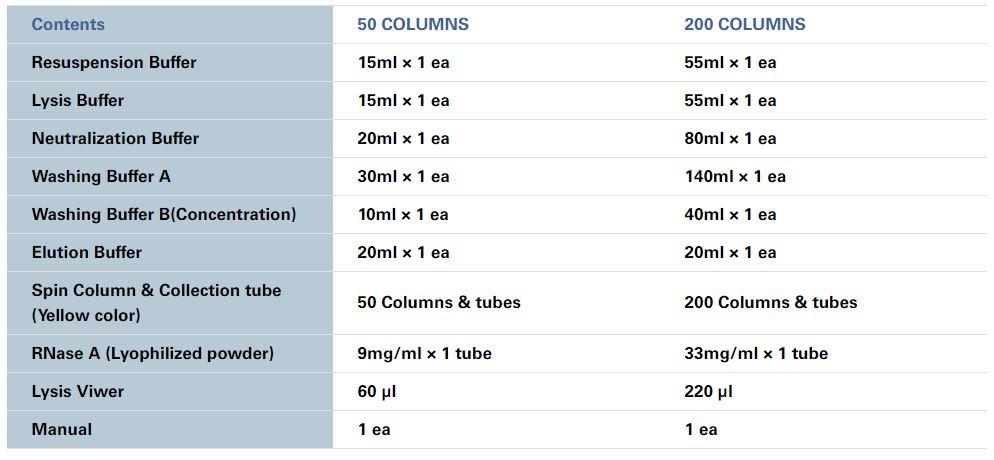 Technical Data
Observation based on effects of Plasmid Copy No.

After extracting plasmid DNA from high copy number and low copy number using DNA-spinTM Plasmid DNA Purification Kit, the results verified high purity and high yield of plasmid DNA.
DH5a/pUC18(High-copy number), DH5a/pET40b(Low-copy number)
iNtRON; Supplier A, Competitor A; Supplier B, Competitor B
Data Comparison for extraction efficiency based on size of plasmid DNA

After extracting various size of plasmid DNA using DNA-spinTM Plasmid DNA Purification Kit, the results verified higher yield compare to competitors.
Plasmid DNA Size : 2.7 Kb, 6.4 Kb, 9 Kb, 12.5 Kb, 33.4 Kb 
iNtRON; Supplier A, Competitor A; Supplier B, Competitor B