Availability:
67 disponibles
Desde 130,00€
Spin type product for extracting purified DNA from plant specimen as well as processed food
• Specialized in extracting DNA from various plant samples such as Gramineae and seed as well as processed food
• High reliability and reproducibility by providing optimized 5 types of protocol for each sample
• Possible to extract high yield and purified DNA from plant containing secondary product by using Enhancer Solution
• Standard sample description and data are provided for more than 100 types of plant specimen and processed food
• Concrete instruction is provided to extract DNA easily
The i-genomic™ Plant DNA Extraction Mini Kit extracts genomic DNA more easily and quickly from processed foods such as wheat, high pressure, hot water, juice, and sterilization as well as plant samples such as leaves, stem, roots, fruits and seeds Especially, Gramineae, which has a weak secondary coat compared to other seeds, can be used for extracting plant DNA. It is possible to use PPT Buffer and Enhancer Solution to prevent from interfering with secondary product. It is designed and developed to extract high purified genomic DNA. In addition, since GMO labeling of processed foods using GMO agricultural products is mandatory, this product can extract genomic DNA from plants as well as processed foods. A protocol to extract Genomic DNA from various plant samples was tested using over 100 plant samples to obtain genomic DNA extraction results (see Figure 1) And related data (see Technical Data).
Figure 1. Plant Samples Applied by Standard Protocol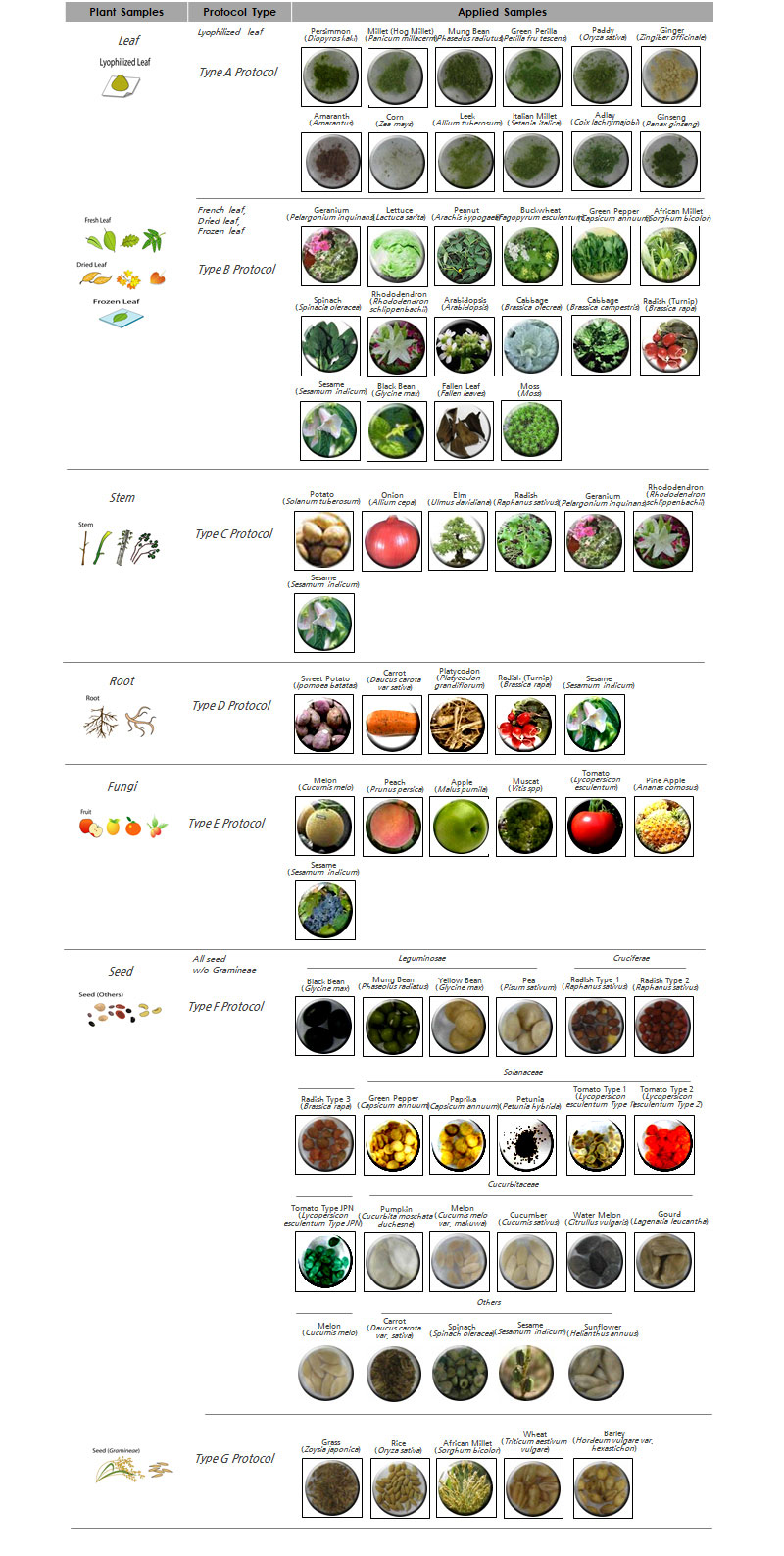 i-genomic™ Series DNA Extraction Mini Kit Kit is specialized for extracting genomic DNA from specific specimen. (Figure 2. Reference). Also, specialized tools such as lysis buffer and inhibitor remover are provided for each sample. Therefore, i-genomic™ Series DNA Extraction Mini Kit is reliable for extracting high yield and purified genomic DNA and provides detailed protocol for high reproducibility. i-genomic™ Series DNA Extraction Mini Kit provides CAPS which packed each column in order to use in pathogen research and minimize contamination. (Figure 3. reference). Therefore, i-genomic™ Series DNA Extraction Mini Kit is applied for not only pathogen research but also SNP genotyping, RAPD analysis, AFLP analysis, RFLP analysis, Microsatellite analysis.
Figure 2. Six kinds of i-genomic™ Series DNA Extraction Mini Kits

Figure림 3. Spin Column & CAPS Information


  Applications


  Kit Contents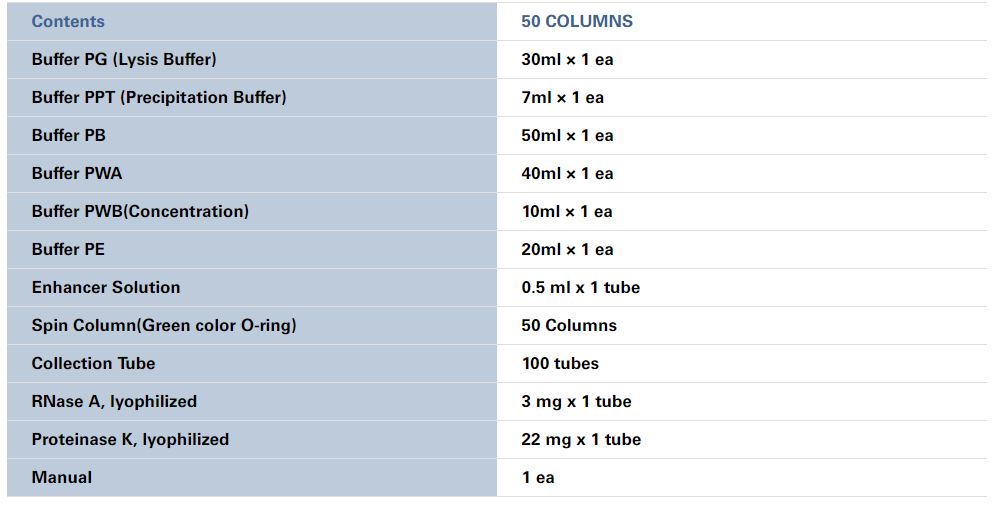 Technical Data
Observation for yield and purity of genomic DNA from various plant specimen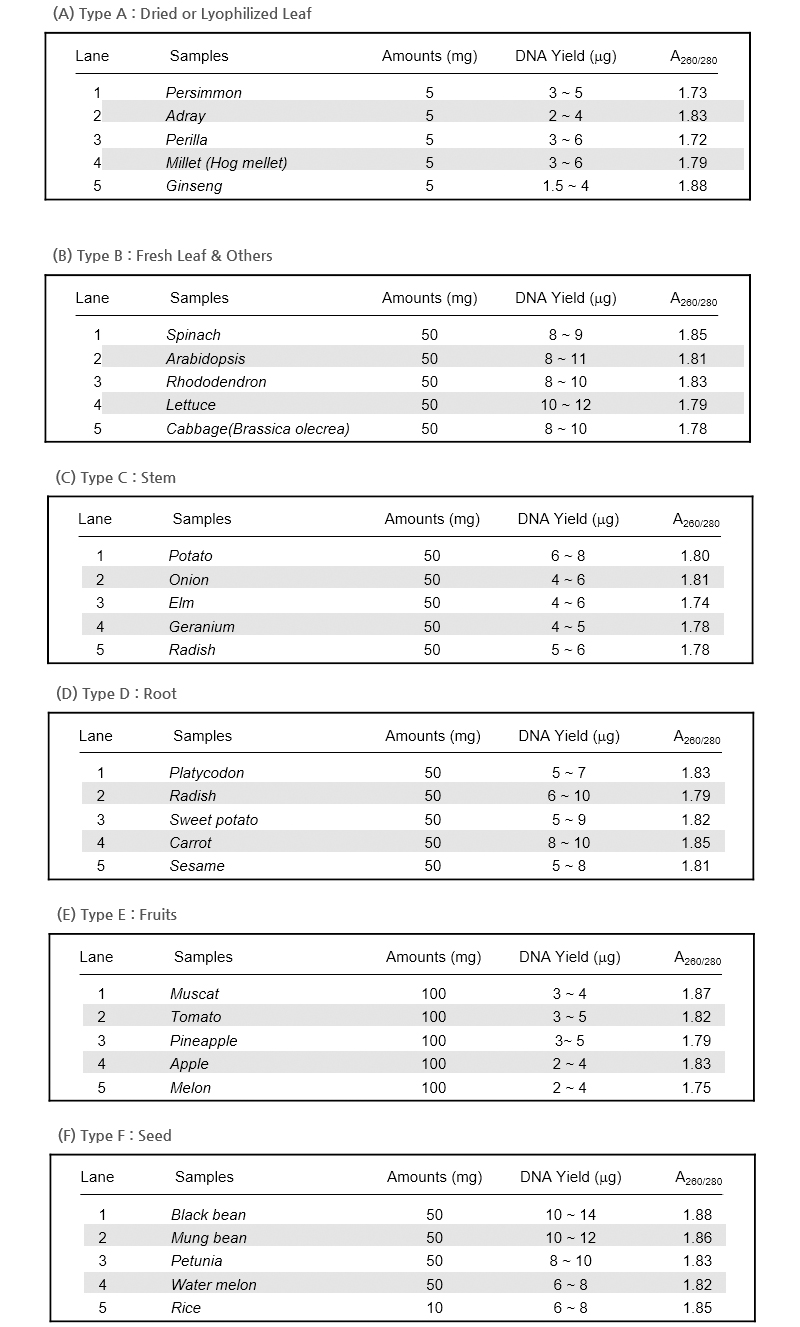 Observation for yield and purity of genomic DNA from various plant specimen