Spin type product for extracting DNA from Gram(+)/(-) Bacteria and Yeast in urine without any other process
• DNA extraction from Gram(+)/(-) Bacteria and Yeast in urine without degrading Lysozyme
• Possible to extract high purified DNA from specimens containing salt without PCR inhibitor
• High reproducibility data provided by removing PCR Inhibitor
i-genomic™ Urine DNA Extraction Mini Kit is used for extracting cellular, bacterial and viral DNA in urine without degrading lysozyme. A wide range of sample such as G(-)/(+) bacteria and yeast as well as animal cell/tissue can be extracted using unique detergent. In addition, the urine contains a large amount of salt (uric acid in urea or disease) in the sample. In this product, a buffering system is designed to remove the PCR inhibitor and are suitable for molecular biological studies. Various biological samples including body fluids have been applied to a wide range of studies as a material for gene identification. However, the urine has a relatively small number of cells with DNA and a relatively low relative gene content, which is far from ideal material, and therefore the research on urine DNA extraction was relatively inadequate. Nevertheless, as the importance of disease identification using molecular diagnostics has increased, urine has emerged as an important sample. In urine, not only the epithelial cells of leukocytes and blood vessels but also the infectious bacteria are present and many studies on various fields such as cancer screening, identification of DNA methylation, and infectious bacterial diseases including sexually transmitted diseases are being conducted. The i-genomic ™ Urine DNA Extraction Mini Kit is suitable for these studies.
i-genomic™ Series DNA Extraction Mini Kit is specialized for extracting genomic DNA from specific specimen. (Figure 1. Reference). Also, specialized tools such as lysis buffer and inhibitor remover are provided for each sample. Therefore, i-genomic™ Series DNA Extraction Mini Kit is reliable for extracting high yield and purified genomic DNA and provides detailed protocol for high reproducibility. i-genomic™ Series DNA Extraction Mini Kit provides CAPS which packed each column in order to use in pathogen research and minimize contamination. (Figure 2. reference). Therefore, i-genomic™ Series DNA Extraction Mini Kit is applied for not only pathogen research but also SNP genotyping, RAPD analysis, AFLP analysis, RFLP analysis, Microsatellite analysis.
Figure 1. Six kinds of i-genomic™ Series DNA Extraction Mini Kits

Figure 2. Spin Column & CAPS Information

  Applications

  Kit Contents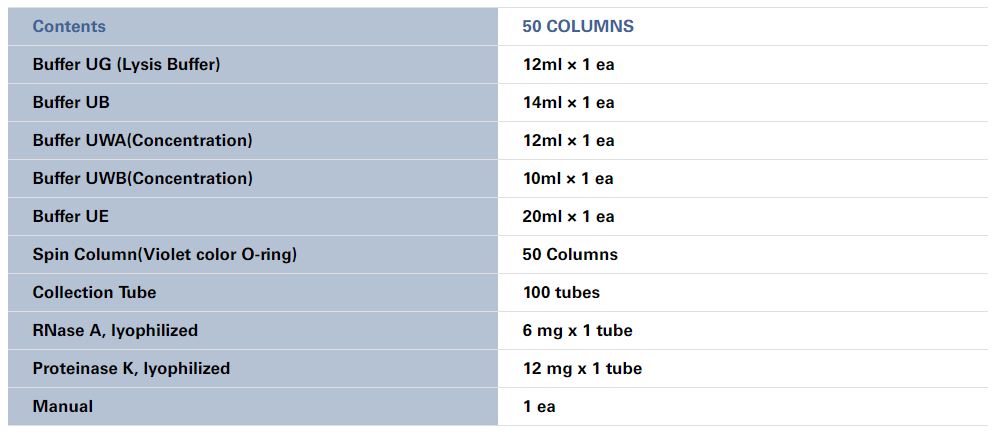 Technical Data
efficiency of microbial DNA extraction from urine specimen

After extracting microbial DNA in urine using i-genomicTM Urine DNA Extraction Mini Kit and running PCR, excellent data was obtained compare to competitors.
Gram(+) bacteria = B.subtilis = 16S rDNA(app 1.1 Kb) PCR
Mycoplasma = M. fermentas = specific gene(app 270 bp) PCR
Yeast = C. albicans = 18s rDNA(app 730 bp)