Availability:
3 disponibles
99,00€
3 disponibles
Enzyme that inhibits the action of pure purified ribonuclease from human placenta.
RNase inhibitor was purified from human placenta, and this enzyme has a function to inhibit ribonuclease by forming a complex with RNase A. However, since this reaction is reversible, the complex is disassociated by the urea or sulfohydryl reagent. Thereby ribonuclease activity can be activated and the RNase inhibitor is irreversibly inactivated. In addition, unlike conventional antagonists (nucleotides, inorganic phosphorus acids), it can be easily removed from the reaction system by phenol treatment because it is proteinaceous.
• Source
– Purified from Human placenta
• Unit Definition
– One unit of the amount of enzyme required to inhibit by 50% the activity of 5 ng of RNase A at 25℃
(This inhibitor activity is determined by its ability to inhibit hydrolysis of cyclic 2', 3'-CMP by RNase A).
• Quality control
– Nuclease activity is not detected in either of the following cases, as judged from the agarose gel electrophoresis pattern.
1) After incubation of 1 mg of lDNA-Hind III fragment with 300 units of enzyme for 1 hr at 37℃.
2) After incubation of 1 mg of supercoiled pBR322 DNA with 300 units of enzyme for 1 hr at 37℃.
3) Migrates as a single band of 50 KDa in SDS-PAGE gel electrophoresis.
• General use
– Use 1 ml of RNase Inhibitor in a 20 ml of reaction.
  Applications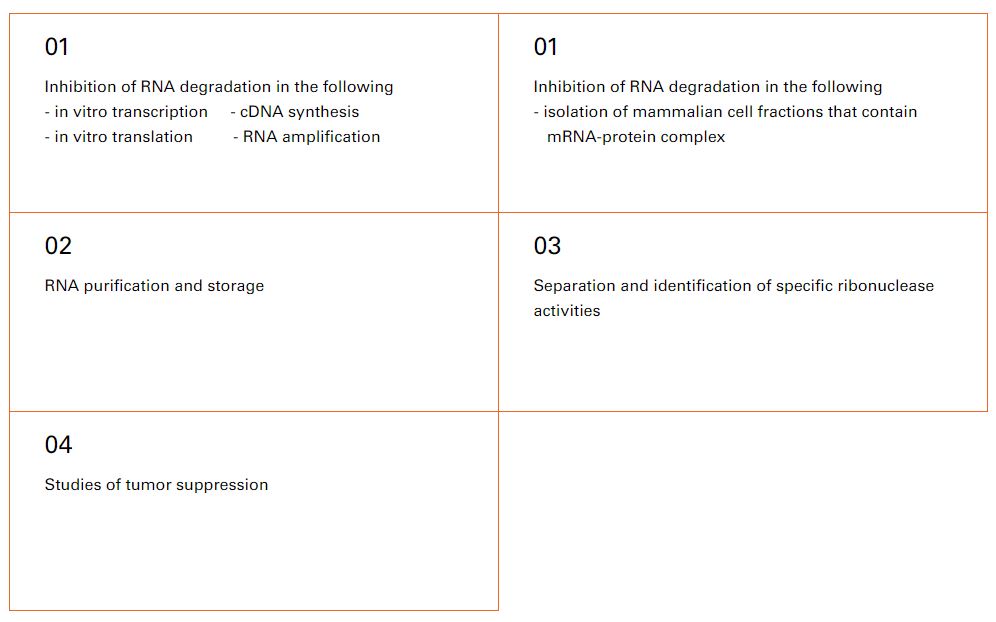 Kit Contents


[ RNase Inhibitor Storage Buffer ]
Component
• 20 mM HEPES-KOH(pH 7.5)
• 50 mM KCl
• 5 mM DTT
• 50 % glycerol