 Animal
Avian Influenza virus H9 Ag rapid test kit
High-purity i-Taq™ PCR core kit that displays stable and efficient DNA amplification regardless of template type and reaction conditions 94 KDa thermostable DNA polymerase
High purity Taq DNA Polymerase
– Removal of E. coli -derived proteins and DNA that may act as PCR sources
Applicable to DNA from cloned DNA to human genomic DNA
Buffer optimization to show the best polymerase activity regardless of template type or reaction conditions
Pack Promo 5×500 units.Código: 25022-5
Availability:
18 disponibles
199,00€
18 disponibles
Background Information
H9N2 is the most common subtype of influenza viruses in Chinese chickens and thus causes great economic loss for the poultry industry, even under the long-term vaccination programs. Recent human infections with avian influenza virus revealed that H9N2 is the gene donor for H7N9 and H10N8 viruses that are infecting humans too. The crucial role of H9N2 viruses due to the wide host range, adaptation to both poultry and mammals and extensive gene reassortment. In China, which is regarded as an epicenter of avian influenza viruses, the H9N2 virus has been detected in multiple avian species, including chicken, duck, quail, pheasant, partridge, pigeon, silky chicken, chukar and egret.
LiliF™ AIV H9 Ag Rapid kit is a Lateral Flow Immuno-Chromatographic Assay kit for the rapid and accurate qualitative detection of Avian Influenza Virus with hemagglutinin #9 in avian cloaca, trachea, or feces swabs.
Principle
Intended Use
•  Detection of Avian Influenza Virus with hemagglutinin #9
Interpretation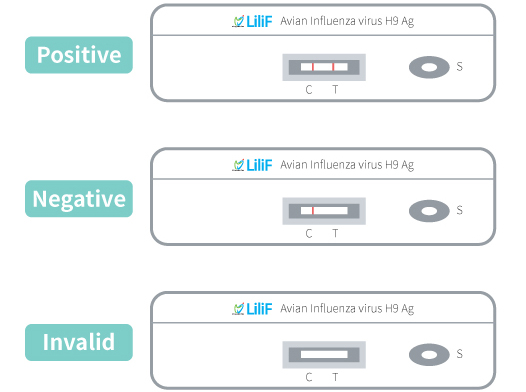 Kit Contents
| No | Contents | 10 Tests / kit |
| --- | --- | --- |
| 1 | Test device | 10 tests |
| 2 | FOB disposable bottle including sample diluent | 0.5ml x 10ea |
| 3 | Cotton swab | 10ea |