 Animal
Bovine Brucella Ab rapid test kit
High-purity i-Taq™ PCR core kit that displays stable and efficient DNA amplification regardless of template type and reaction conditions 94 KDa thermostable DNA polymerase
High purity Taq DNA Polymerase
– Removal of E. coli -derived proteins and DNA that may act as PCR sources
Applicable to DNA from cloned DNA to human genomic DNA
Buffer optimization to show the best polymerase activity regardless of template type or reaction conditions
Pack Promo 5×500 units.Código: 25022-5
Availability:
18 disponibles
199,00€
18 disponibles
Background Information
Brucella abortus is a gram-negative bacterium that is found in cattle populations. This intracellular parasite is a blood borne pathogen that causes premature abortion of a cattle fetus. What makes this bacterium so dangerous is that it is zoonotic, meaning it can be transferred from an animal to a human host and still remain pathogenic. In humans this disease cause both acute and chronic symptoms, but can be treated with antibiotics. Because of this economic effect on the cattle business and the disease potential in humans, the US has spent close to $3.5 billion trying to vaccinate the cattle herds in the US. It is possible for B. abortus to be spread from wild populations of elk and bison into domestic cattle herds and this is why the US government continues to be vigilant in tracking potential cases within herds.
LiliF Bovine Brucella Ab Rapid kit is a Lateral Flow Immuno-Chromatographic Assay kit for the rapid and accurate qualitative detection of antibody against B.arbotus in bovine blood.
Principle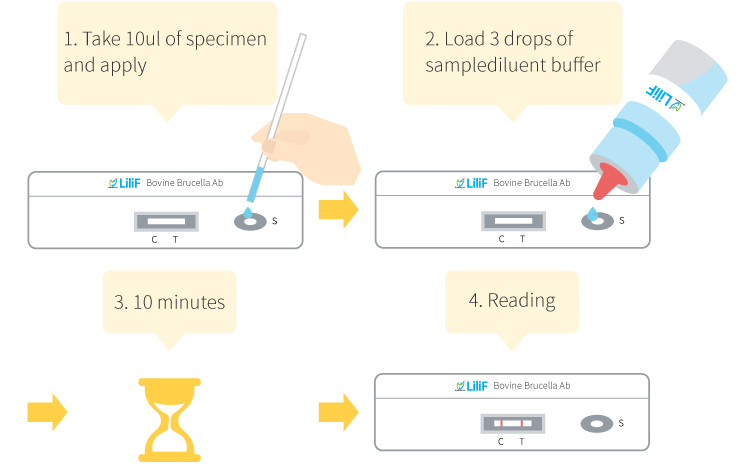 Intended Use
• Detection of Antibody against Brucella Abortus
Interpretation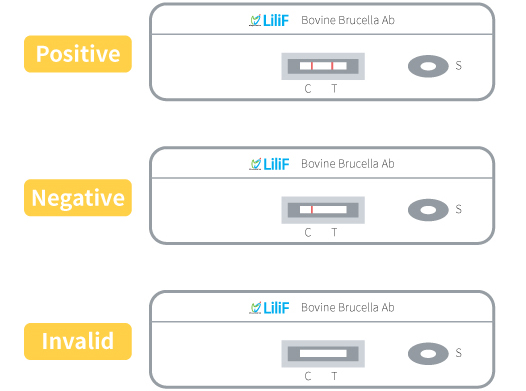 Kit Contents
| No | Contents | 10 Tests / Kit |
| --- | --- | --- |
| 1 | Test device | 10 tests |
| 2 | Sample diluent | 2ml x 1ea |
| 3 | Droppers | 10ea |