 Animal
Feline Toxoplasma Ab rapid test kit
High-purity i-Taq™ PCR core kit that displays stable and efficient DNA amplification regardless of template type and reaction conditions 94 KDa thermostable DNA polymerase
High purity Taq DNA Polymerase
– Removal of E. coli -derived proteins and DNA that may act as PCR sources
Applicable to DNA from cloned DNA to human genomic DNA
Buffer optimization to show the best polymerase activity regardless of template type or reaction conditions
Pack Promo 5×500 units.Código: 25022-5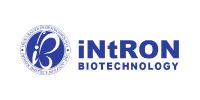 Availability:
18 disponibles
199,00€
18 disponibles
Background Information
The obligate intracellular protozoan Toxoplasma gondii is ubiquitously distributed and infects a wide range of warm-blooded host, including up to 30% of human population worldwide. Infection of immunocompetent humans is most often asymptomatic, but leads to lifelong persistence of the parasite. T. gondii may lead to life-threatening disease in fetuses or new borns from primarily infected mothers or after reactivation of dormant parasites in immunocompromised patients such as AIDS or other immunosuppressive therapy.
LiliF Feline Tg Ab is a Lateral Flow Immuno- chromatographic Assay kit for the rapid and qualitative detection of all antibodies (IgG, IgM, IgA) against T. gondii, in serum, plasma, and whole blood from feline.
Principle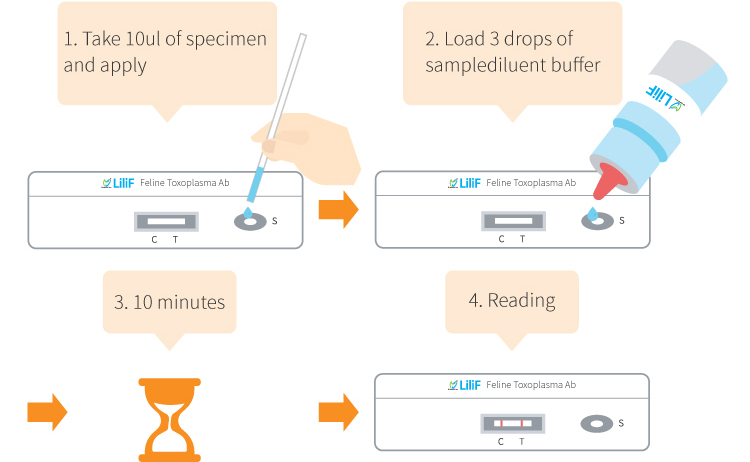 Intended Use
• Detection of Antibodies against Toxoplasma gondii
Interpretation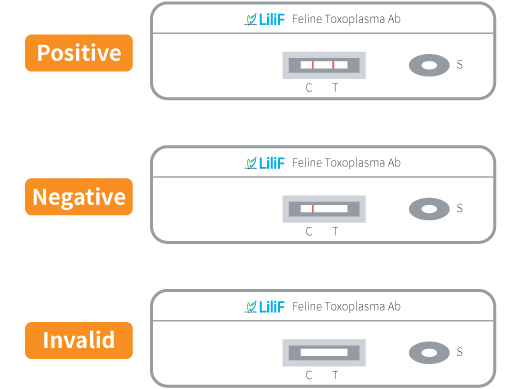 Kit Contents
| No | Contents | 10 Tests / Kit |
| --- | --- | --- |
| 1 | Test device | 10 tests |
| 2 | Sample diluent | 2ml x 1ea |
| 3 | Droppers | 10ea |