Availability:
7 disponibles
99,00€
7 disponibles
2X Master mix type of product and DNA interchelator SFC Green dye is added and real-time RT-PCR (qRT-PCR) can be easily performed using RNA as template
• Real-time PCR reaction volume adjustable with 2X Master mix type
• Very similar to SYBR Green and Eva Green• Excellent reproducibility and stability
• Hot-start function minimizes non-specific reactions RealMOD ™ Green SF 2X qRT-PCR mix is available for quantitative RT-PCR using RNA.
This product uses SFC Green as a DNA interchelator. SFC Green has a wavelength band similar to SYBR Green and Eva Green, has a very bright fluorescence and has a long half life.  It has low dimer formation rate and is characterized by high reproducibility and stability.
  Applications
01 Detection and quantification of RNA
02 Virus detection and quantification
03 Transcription analysis
  Kit Contents

Wide Instruments Compatibility
• Applied BioSystems : QuantStudio™ 12K Flex, ViiA™ 7, 7900HT, 7500, 7700, StepOne™ & StepOne plus™
• Stratagene : MX3000P™, MX3005P™
• Bio-Rad : CFX96™ & CFX384™, iQ™5 & MyiQ™, Chomo4T™, Opticon® 2 & MiniOpicon®
• Qiagen : Rotor-Gene® Q, Rotor-Gene® 6000
• Eppendorf : Mastercycler® ep realplex2 & ep realplex4
• Roche : LightCycler® 480
• Illumina : The Eco™
  Technical Data
Experiment result for RealMODTM Green AP 5x qPCR mix product with Abi 7500 instrument. (Including ROX Dye or without ROX Dye)
​Performance comparison experiment using RealMOD ™ Green SF 2X qRT-PCR mix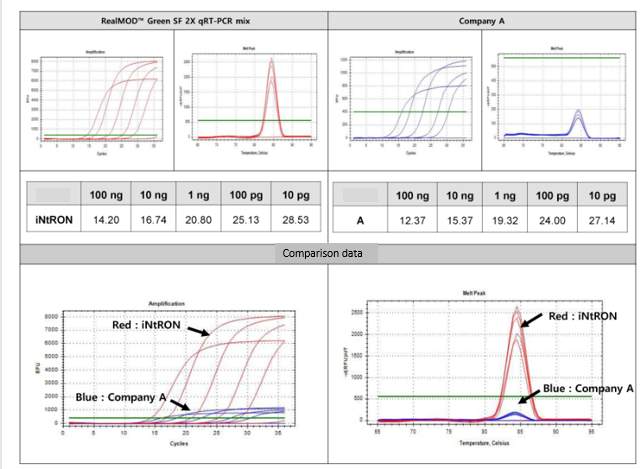 We conducted comparative experiments with Company A, B and C products and RealMOD ™ Green SF 2X qRT-PCR mix. SNU-1 RNA was used as a template and diluted stepwise to conduct the experiment and analyze the results. Excellent amplification compared to other companies was confirmed and excellent peaks were confirmed in melting curve analysis. Ct value analysis shows similar performance to other companies.