TaqMan Probe type, one-step RT-PCR product for quantitative PCR
• Real-time PCR reaction volume control with 2X Master mix type
• Hot-start function minimizes non-specific reaction
• Excellent reproducibility and stability
• Excellent qPCR results in templates with high GC contents
RealMOD™ Probe SF 2X qPCR mix is a product of TaqMan Probe type and can be quantitative PCR using cDNA or gDNA. This product has a hot-start function, low dimer, high reproducibility and high stability. In addition, qPCR results are excellent even in templates with high GC contents, and 2X Master mix type is available.

  Applications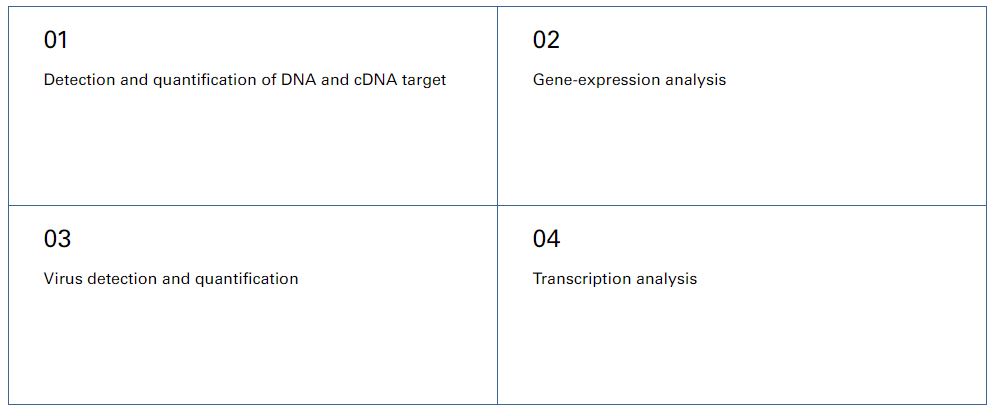 Kit Contents

Wide Instruments Compatibility
RealMOD ™ Probe SF 2x qPCR mix is standard qPCR enabled. The types of devices that can be tested using this product are as follows.
• Applied BioSystems : QuantStudio™ 12K Flex, ViiA™ 7, 7900HT, 7500, 7700, StepOne™ & StepOnePlus™
• Stratagene : MX3000P™, MX3005P™
• Bio-Rad : CFX96™ & CFX384™, iQ™5 & MyiQ™, Chromo4™, Opticon®2 & MiniOpicon®
• Qiagen : Rotor-Gene® Q, Rotor-Gene® 6000
• Eppendorf : Mastercycler® ep realplex2 & ep realplex4
• Illumina : The Eco™
• Roche : LightCycler®480

  Technical Data