 Animal
Feline Immunodeficiency virus Ag rapid test kit
High-purity i-Taq™ PCR core kit that displays stable and efficient DNA amplification regardless of template type and reaction conditions 94 KDa thermostable DNA polymerase
High purity Taq DNA Polymerase
– Removal of E. coli -derived proteins and DNA that may act as PCR sources
Applicable to DNA from cloned DNA to human genomic DNA
Buffer optimization to show the best polymerase activity regardless of template type or reaction conditions
Pack Promo 5×500 units.Código: 25022-5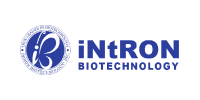 Availability:
18 disponibles
199,00€
18 disponibles
Background Information
Feline immunodeficiency virus (FIV) is a lentivirus that affects cats worldwide. From 2.5% up to 4.4% of cats worldwide are infected with FIV. FIV differs taxonomically from two other feline retroviruses, feline leukemia virus (FeLV) and feline foamy virus (FFV), and is more closely related to human immunodeficiency virus (HIV). Within FIV, five subtypes have been identified based on nucleotide sequence differences coding for the viral envelope (env) or polymerase (pol). FIV is the only non-primate lentivirus to cause an AIDS-like syndrome, but FIV is not typically fatal for cats, as they can live relatively healthily as carriers and transmitters of the disease for many years.
LiliF FIV Ag rapid kit is a Lateral Immuno-Chromatographic Assay kit for the rapid and qualitative detection of feline Immunodeficiency virus antigen in feline blood.
Principle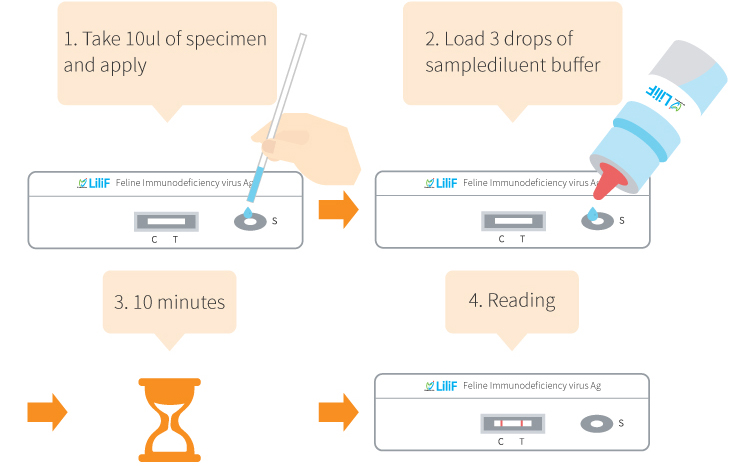 Intended Use
• Detection of Feline Immunodeficiency virus
Interpretation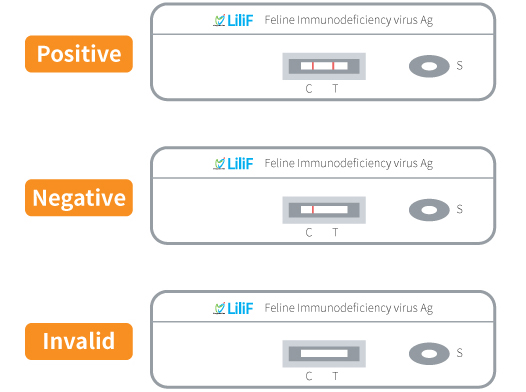 Kit Contents
| No | Contents | 10 Tests / Kit |
| --- | --- | --- |
| 1 | Test device | 10 tests |
| 2 | Sample diluent | 2ml x 1ea |
| 3 | Droppers | 10ea |