11 bands between 10 and 180 kDa are available in a wide range of identifiable Prestained Protein Ladder
• Broad protein marker with 11 bands in the range of 10~180 kDa
• Two reference bands (25 kDa and 72 kDa) make it easier to identify the range
• Easy-to-use products without prior processing
• Suitable for Western blotting, CBB staining, Silver staining and etc
• High efficiency with small amount
GangNam-BLUE™ Prestained Protein Ladder is a protein marker that can specify the protein size in protein electrophoresis with 11 bands between 10~180 kDa. It is specially convenient to use by two reference bands (25 kDa and 72 kDa) and possible to use directly without pre-treatment such as buffer dilution. GangNam-BLUE™ Prestained Protein Ladder is very suitable for protein separation from SDS-PAGE, confirmation of Western blot transfer efficiency, CBB staining and silver staining.

  Applications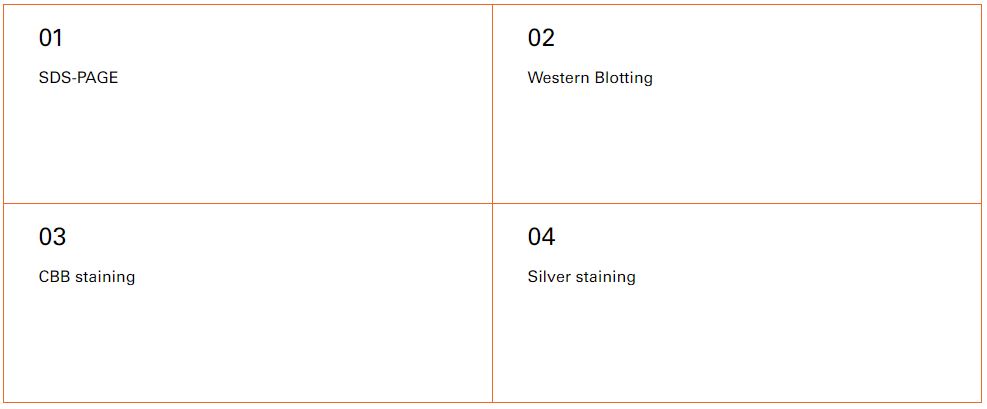 Kit Contents


  Technical Data

Guide for Molecular Weight Estimation (kDa)
Migration patterns of GangNam-BLUE™ in different electrophoresis conditions are listed below:
Note : The apparent molecular weight (kDa) of each protein has been determined by calibration against an unstained protein ladder in each electrophoresis condition. supplement data should be considered for more accurate adjustment.
Caution : Not intended for human or animal diagnostic or therapeutic uses.