Availability:
39 disponibles
169,00€
39 disponibles
Antibody based-Hot Start function and Proof-reading function are included and i-StarMAX™ GH DNA Polymerase with high sensitivity, specificity and amplification
• i-StarTaqTM GH DNA Polymerase and Proof-reading DNA Polymerase
– Antibody-based hot-start implementation enhances sensitivity / specificity
– Proof-reading function
– Possible to amplify fragments over 20 Kb
• High purity hot-start Taq DNA Polymerase
• excellent sensitivity and amplification rate
– Optimum Buffering System to increase amplification efficiency
– Blending ratio of different characteristics of enzyme improves amplification efficiency by optimization
– Enhance amplification efficiency by applying Enhancer
• High reproducible results
• Optimal product for long PCR that conducts PCR of complex structure using human genomic DNA as a template, or studies the treatment of diseases and diseases.
i-StarMAXTM GH DNA Polymerase was developed to blend the i-StarTaq™ GH DNA Polymerase and pfu DNA Polymerase, which enables hot-start by the antibody, to efficiently amplify from short to long fragments. i-StarTaqTM GH DNA Polymerase prevents the enzyme activity at low temperature and prevents the non-specific priming or oligomerization by increasing the temperature of the reaction, i-pfu DNA Polymerase is an enzyme that has a proof-reading function. To compensate for the advantages and disadvantages of this enzyme, i-StarMAX ™ GH DNA Polymerase has been developed to improve PCR accuracy and amplification It is a very good product.
In other words, it is very useful for PCR which can reduce the non-specific reaction and error rate, and can be used for PCR of long template longer than 20 Kb. In addition, high yield PCR product can be obtained even in difficult template / primer system. Therefore, the human genome project that uses the enzyme to construct human DNA and determines the chemical base sequence that maps the entire genome of the human genome from a physical and functional point of view, as well as research into the treatment of diseases and diseases, genetic anthropology It can be used in various fields such as project.
  Applications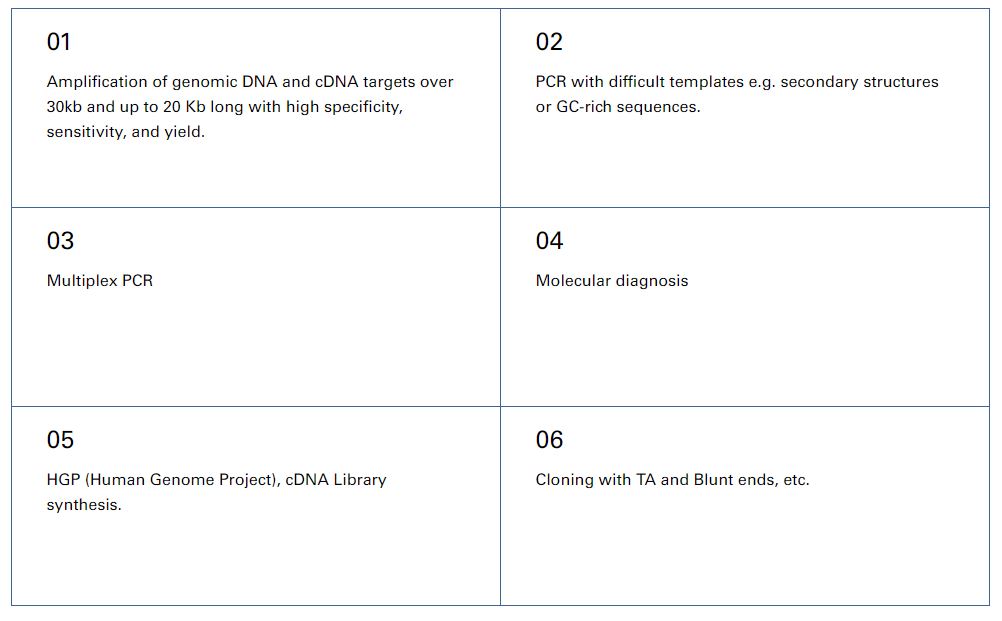 Kit Contents

  Technical Data
Observation of amplification efficiency under various conditions

Based on various PCR amplification conditions, it was confirmed that the sensitivity and amplification rate of i-StarMAX ™ II DNA Polymerase were higher than those of existing products.
Fig 1. PCR amplification of 1.3/2.7/4.5/20 Kb with i-StarMAX™ II DNA Polymerase and i-StarMAX™ GH DNA Polymerase 
[ 570 bp ] / [ 1.3 Kb ] 
Lane M, SiZer™-100 DNA Marker Solution(Cat. No. 24073); lane N, Negative Control
Lane 1, 100 ng K562 gDNA; lane 2, 10 ng K562 gDNA; lane 3, 1 ng K562 gDNA; lane 4, 100 pg K562 gDNA; lane 5, 10 pg K562 gDNA; lane 6, 1 pg K562 gDNA; lane 7, 100 fg K562 gDNA 
[ 2.7 Kb ] 
Lane M, SiZer™-1000 DNA Marker Solution(Cat. No. 24074); lane N, Negative Control
Lane 1, 100 ng K562 gDNA; lane 2, 10 ng K562 gDNA; lane 3, 1 ng K562 gDNA; lane 4, 100 pg K562 gDNA; lane 5, 10 pg K562 gDNA; lane 6, 1 pg K562 gDNA; lane 7, 100 fg K562 gDNA 
[ 4.5 Kb ] 
Lane M, SiZer™-1000 DNA Marker Solution(Cat. No. 24074); lane N, Negative Control
Lane 1, 100 ng 5F plasmid DNA; lane 2, 10 ng 5F plasmid DNA; lane 3, 1 ng 5F plasmid DNA; lane 4, 100 pg 5F plasmid DNA; lane 5, 10 pg 5F plasmid DNA; lane 6, 1 pg 5F plasmid DNA; lane 7, 100 fg 5F plasmid DNA 
[ 20 Kb ] 
Lane M, SiZer™-1000 DNA Marker Solution(Cat. No. 24074); lane N, Negative Control
Lane 1, 10 ng λDNA; lane 2, 1 ng λDNA; lane 3, 100 pg λDNA; lane 4, 10 pg λDNA; lane 5, 1 pg λDNA ; lane 6, 100 fg λDNA; lane 7, 10 fg λDNA