Taq Polimerasa i-Taq DNA Polymerase for daily PCR runs
Features:

Features:
Taq Polymerasa i-Taq provides robust PCR performance in a wide range of PCR applications and different templates. Best value in terms of cost per unit.
Applications:
– Standard / General PCR
– Multiplex PCR
– High-throughput PCR
– Primer extension
– Gene mutation
– T/A cloning
Description:
Taq Polymerasa i-Taq is a thermostable DNA polymerase that possesses a 5´→3´ polymerase activity and a double-strand specific 5´→3´ exonuclease activity. The enzyme consists of a single polypeptide with a molecular weight of 94kDa.
Concentration:  5 u/µl
Unit definition:
One unit incorporates 10 nmol of deoxyribonucleotide into acid-precipitation material in 30min at 74 degree
Storage Buffer:
25mM Tris-HCl (pH8.0), 100mM KCl, 0.1mM EDTA, 1mM DTT, 50% Glycerol, 0.5% Nonident P40, 0.5% Tween 20
Reaction Buffers supplied with the enzyme:
10X Buffer I:  500mM KCl, 100mM Tris-HCl, pH 9.0, 1% Triton X-100, 15mM MgCl2

Quality control:
– PCR with various templates – genomic DNA, Phage Lambda DNA
– 3 kb DNA amplification from 50 ng DNA
– batch variation and level of bacterial DNA contamination

Transportation: on blue ice

Storage: at -20°C for 24 months
Taq DNA Polymerase: Stability tests / Quality control / Comparison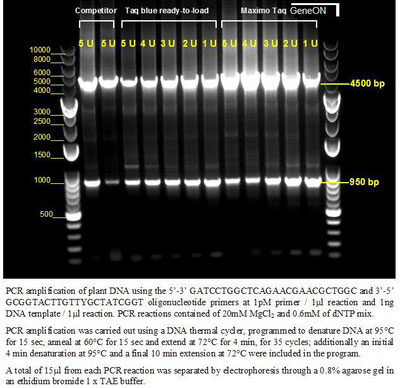 Taq DNA Polymerase: How to use.
Components
Volume per reaction
 10X reaction buffer I or buffer II
 5 µl
 25 mM MgCl2
 1.5 µl (if you use buffer II)
 dNTP-Mix (40mM)
 1.0 µl
 Up-stream primer (10 µM stock)
 0,5-2.5 µl
 Down-stream primer (10µM stock)
 0.5-2,5 µl
 Template DNA
 0.1-15 ng/ml plasmid DNA
1-10 µg/ml genomic DNA
 Taq Polymerase (5 u/µl)
  0.2 – 1.0 µl
 Sterile dest. Water (molecular grade)
 up to 50 µl total reaction volume
Note: 
– vortex all solutions carefully before using
– dispense all reagents on ice
– add the enzyme after Template DNA
– may you have to optimize the MgCl2 concentration for best result
General Thermo-Cycler protocol:
 Step
 Time
 Temperature
 Initial denaturation
 2-5 min
 94-95°C
25-30 Cycles:Denaturation

Annealing

Extension

10-25 sec

10-25 sec

60 sec

94-95°C

55-65°C

72°C per 1kb

 Final extension
   5 min
  72°C
La polimerasa Taq en PCR

[

editar

]
En los primeros años de la década de 1980 Kary Mullis se encontraba trabajando en la Cetus Corporation sobre el tema de la aplicación de formas sintéticas de ADN a la biotecnología. Estaba familiarizado con el uso de oligonucleótidos de ADN como sondas capaces de unirse a determinadas cadenas de ADN que contuvieran una secuencia específica de nucleótidos; también con el uso de estas sondas como iniciadores para la secuenciación de ADN y síntesis de ADN complementario. En 1983 comenzó a utilizar una técnica que consistía en agregar dos iniciadores, uno para hibridar con cada una de las cadenas de ADN, y luego añadir una polimerasa de ADN al medio de reacción. Esto producía una replicación exponencial del ADN7​ incrementando de manera asombrosa la secuencia de ADN contenida entre los dos iniciadores.3​
Sin embargo, luego de cada ronda de replicación la mezcla debía ser calentada por encima de los 90ºC para desnaturalizar la doble cadena de ADN recién formada, permitiendo de esta manera que cada una de las cadenas simples pudiera servir como plantilla para la siguiente ronda de amplificación. Este paso de calentamiento también inactivaba la ADN polimerasa (el fragmento de Klenow de la ADN polimerasa I proveniente de E. coli) que se utilizaba antes del descubrimiento de la polimerasa Taq.
La utilización de la polimerasa Taq termoestable elimina la necesidad de añadir nuevas cantidades de polimerasa durante el proceso de termociclado. De esta forma es posible utilizar un único tubo cerrado en una máquina de termociclado relativamente simple para realizar todo el proceso. Por lo tanto, el uso de la polimerasa Taq fue la idea clave que permitió hacer aplicable el proceso de PCR a una gran variedad de problemas de biología molecular relacionados con el análisis de ADN.2​