 Animal
Newcastle Disease virus Ag rapid test kit
High-purity i-Taq™ PCR core kit that displays stable and efficient DNA amplification regardless of template type and reaction conditions 94 KDa thermostable DNA polymerase
High purity Taq DNA Polymerase
– Removal of E. coli -derived proteins and DNA that may act as PCR sources
Applicable to DNA from cloned DNA to human genomic DNA
Buffer optimization to show the best polymerase activity regardless of template type or reaction conditions
Pack Promo 5×500 units.Código: 25022-5
Availability:
18 disponibles
199,00€
18 disponibles
Background Information
The causal agent, Newcastle disease virus (NDV), is a variant of avian paramyxovirus 1 (APMV-1), a negative-sense, single-stranded RNA virus. NDV/APMV-1 belong to the genus Avulavirus in the family Paramyxoviridae. Transmission occurs by exposure to faecal and other excretions from infected birds, and through contact with contaminated food, water, equipment, and clothing. Newcastle disease is a contagious viral bird disease affecting many domestic and wild avian species; Its effects are most notable in domestic poultry due to their high susceptibility and the potential for severe impacts of an epizootic on the poultry industries. It is endemic to many countries.
LiliF™ NDV Ag Rapid kit is a Lateral Flow Immuno-Chromatographic Assay kit for the rapid and accurate qualitative detection of NDV Ag in chicken oropharynx, spleen, or kidney swab.
Principle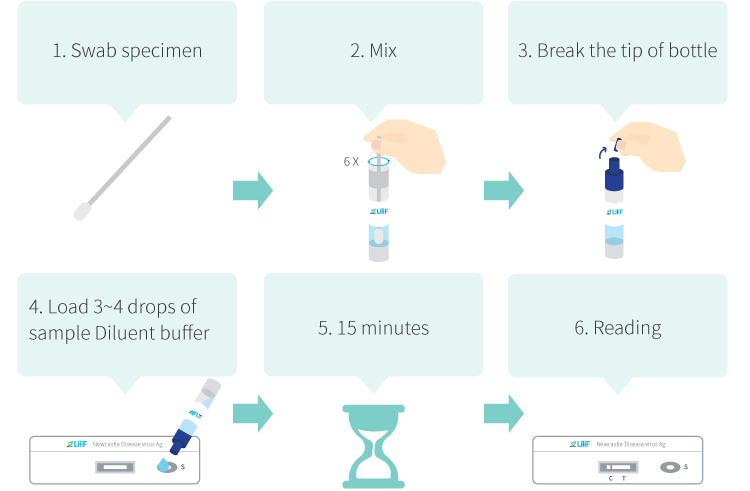 Intended Use
• Detection of Newcastle Disease virus antigen
Interpretation
Kit Contents
| No | Contents | 10 Tests / kit |
| --- | --- | --- |
| 1 | Test device | 10 tests |
| 2 | Sample diluent | 2ml x 1ea |
| 3 | Droppers | 10ea |