 Animal
Infectious Bursal Disease virus Ag rapid test kit
High-purity i-Taq™ PCR core kit that displays stable and efficient DNA amplification regardless of template type and reaction conditions 94 KDa thermostable DNA polymerase
High purity Taq DNA Polymerase
– Removal of E. coli -derived proteins and DNA that may act as PCR sources
Applicable to DNA from cloned DNA to human genomic DNA
Buffer optimization to show the best polymerase activity regardless of template type or reaction conditions
Pack Promo 5×500 units.Código: 25022-5
Availability:
18 disponibles
199,00€
18 disponibles
Background Information
Infectious bursal disease, IBD (also known as Gumboro disease, infectious bursitis and infectious avian nephrosis) is a highly contagious disease virus (IBDV), characterized by immunosuppression and mortality generally at 3 to 6 weeks of age. It is economically important to the poultry industry worldwide due to increased susceptibility to other disease and negative interference with effective vaccination. In recent years, very virulent strains of IBDV (vvIBDV), causing severe mortality in chicken, have emerged in Europe, Latin America, South-East Asia, Africa and the Middle East.
LiliF™ IBDV Ag Rapid kit is a Lateral Flow Immuno-Chromatographic Assay kit for the rapid and accurate qualitative detection of IBDV Ag.
Principle

Intended Use
• Detection of Infectious Bursal Disease virus antigen
Interpretation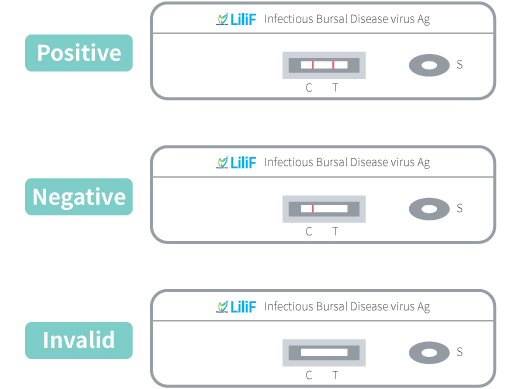 Kit Contents
| No |  Contents | 10 Tests / kit |
| --- | --- | --- |
| 1 |  Test device |    10 tests |
| 2 |  Sample diluent |    2ml x 1ea |
| 3 |  Droppers |    10ea |